I have been living here in Steepleton for a long time. Until recently, however, I did not have as firm a grip on what makes my city tick as I once had on my hometown of Sliverville. Maybe you can never know a place as well as you can know the place you grew up in. Maybe you can.
Foot canvassing my city for a couple months taught me more about my city than living here for two decades. My city likes to think of itself as a city in the country. Leaveittobeaverville, if you will.
This might be Leaveittobeaverville except for one …
What progressives are up against. This is acceptable language for the right wing.
I grew up on moose meat, and the yearly fall hunt was as important as most city folk consider their tax refunds if they are so lucky. I've known the scent and feeling of hunting, of knowing what walked before you by the steam off  bear scat, or the water running down in  moose tracks. I know what it means and feels to have a direct connection to the cycle of the land around you.
Seeing the blossoms of huckleberries and knowing that if it is a rainy year, you might not get many because it is too cold for …
So the time has come for our goodbyes. Our newest grand baby is moving today with her mom and dad to Whitehorse for five months. I know we're going up to visit and the two girls will be down for a week in August but I am going to miss them terribly.
She actually enjoys the sippy cup better than the food!
Her Poppa is going to miss his little Emmie something awful!
We've been blessed to have Emmie and her mom stay with us these past two …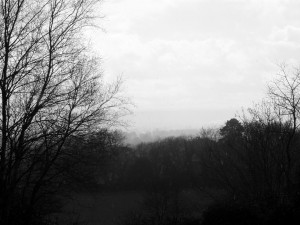 The offing was barred by a black bank of clouds, and the tranquil water-way leading to the uttermost ends of the earth flowed somber under an overcast sky – seemed to lead into the heart of an immense darkness. 
Joseph Conrad

Just under a year ago this weekend I posted thus on the occasion of – amongst other delicious happenings – my first game of cricket of the season. I am – in theory – due to turn out for this year's corresponding fixture this coming Sunday. As things stand I would say that the odds on the game …
This is the weekend of Creston's Annual Blossom Festival but we have our own less celebrated blossom festival going on all around us. Crabapples, Horse Chestnuts, Forsythia, Caraganas, Apple Trees and Spireas are all in full bloom.
The MayDay Tree in full glory, is surrounding many homes with its sweet scent.
Yesterday was the first day in nearly two weeks that I have had a day without a single commitment that involved anyone else. I had a long list of things I intended to do. Instead, I frittered the day away. Between rain showers that left the grass too wet for a much needed cut, I took my camera into the garden to work on some close up shots of flowers and bugs.
Iris
(c) Jean Ballard 2013
Red Hot Poker
(c) Jean Ballard 2013
Rose
(c) Jean Ballard 2013
Iris in red tire planter


(c) Jean Ballard 2013
Honeysuckle
(c) …
by Jarrah Hodge
Back in 2011 Gender Focus contributor Roxanna Bennett reported on YWCA Canada's Safety Siren app, which gave women and girls a way to use their smart phones to learn about dating violence and easily send an emergency signal if ever in danger.
Now, other Canadian non-profits are adapting our new technology to give young women new, on-the-spot tools to fight violence and harassment.
Toronto non-profit METRAC (Metropolitan Action Committee on Violence Against Women and Children) launched their "Not Your Baby" app last fall after they heard many people saying they didn't know how to deal with harassment …
To be a gardener you should: have patience, winter lasts a long time.
To be a gardener you should: thrill to the first green shoots in the cold ground.
To be a gardener you should: believe that a flower can come from a tiny seed dropped into the ground.
To be a gardener you should: be willing to have dirty nails, and messy clothes.
To be a gardener you should: be able to stand in the heat and water thirsty plants.
To be a gardener you should: be willing to fall in love over and over with plants.
…
To the lonely sea and the sky . . . *
Path to the beach
Escaped from the garden, sharing the dunes with weeds and logs.
Somebody's beach shack, roofless
Motto over the door. Good reminder.
A Skywatch post.
*From Sea Fever, by John Masefield.
Everyone should have some type of legal document that directs where the assets of their estate should go when they die. This document is most commonly referred to as a last will and testament. Another popular legal document that may be used in the place of a will is a living trust.
A last will and testament does not necessarily control where everything goes. Certain assets such as retirement accounts, annuities, life insurance, etc. , are controlled by beneficiary designations. Make sure that these designations are up to date and reflect your current wishes as to where these …
Ruckle Provincial Park on Salt Spring Island is one of the places we visit fairly regularly. Getting there isn't too difficult and it somehow seems less onerous driving down to Crofton and then the single ferry over to Vesuvius Bay than the odyssey to get to Hornby Island. Make sure to get a BC Ferries [...]
Whenever I visit Mount Douglas Park I always visit a small swampy area because it has such a grand stand of Skunk Cabbage and to see the wonderful cuneiform of deer hoofprints in the black mud. On my last visit however, what drew my attention were stands of this grass with their striking flower heads. I'm guessing these are male and female flowers but I have no idea. Nor do I know what this grass is called. Any ideas?
Eric Maisel's new book Making Your Creative Mark promises nine keys to achieving your artistic goals.
That's a lie.
The book literally chimes and jingles with keys. The last eleven pages alone has 99 of them, for example these 10:
One of the best ways to help yourself create every day is to craft a starting ritual that you begin to use regularly and routinely. When your ritual becomes habitual you will find yourself moving effortlessly from not creating to creating.

Reframe discipline as devotion.

Creativity is your teacher. Pick a creative project whose express purpose is to teach you …
I can't get enough of the old growth trees in
British Columbia.
Standing at the foot of this gigantic 500 yr old
Sitka Spruce tree in Kitimat, BC
was totally awe inspiring.
This tree is the oldest known living organism
in the Kitimat Valley.
It was registered at the largest living
sitka spruce tree in BC in 1983.
It measures 50.3 meters (165 feet — really!) tall
and 3.4 meters in diameter.
You have to imagine what this tree has seen
and been through in it's lifetime.
The age of quiet and solitude, explorers to
British Columbia, …
You were a wonderful friend and neighbor, spreading good vibes everywhere. You will always live in our hearts.
Miscarriage is like a secret club – you aren't supposed to talk about it to anyone who isn't a member.
There's a slight problem with that.
If no one talks about their miscarriage, how do you know who you can talk about your miscarriage?
The stigma about talking about miscarriage goes so deep that you aren't even supposed to tell people that you're pregnant until the highest risk of miscarriage passes because otherwise you might have to tell them that you had a miscarriage.
And you don't want to do that… for… some… reason…
Once that dangerous first trimester, which …

At SelfDesign High we have many exciting intensives and camps at different locations in BC and abroad. Whether you want to do something just for fun, or if you also want to earn a few high school credits while enjoying summer activities, we have something for you.
SelfDesign High summer programs kick off on July 2nd with the Summer Visual Arts Intensive in collaboration with the Oxygen Arts Centre, now in it's 4th year! This is a month-long intensive for youth who are passionate about making art and sharing their work with the community through an exhibition that the youth …